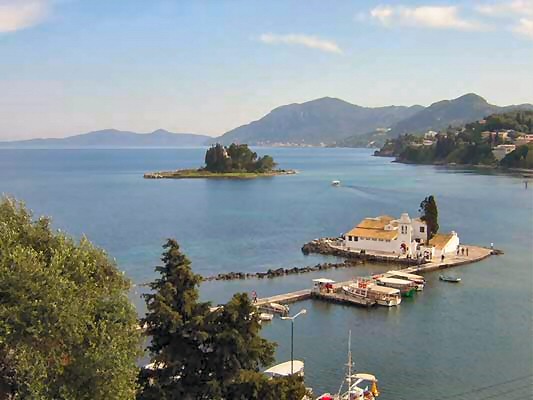 The sweep of Garitsa Bay leads you round to the village of Anemomylos and to the Kanoni peninsular. The eastern port of ancient Corcyra, the harbour of Alkinoos, was situated towards the southern end of the bay, but few remains can be seen today.
In Anemomylos you will find the church of St. Jason and Sosipater, the two Saints who brought Christianity to Corfu. Housed inside are many rare icons.
Further along the road to Kanoni is the gate of Mon Repos park where elegant villa in Regency style stands in the grounds. Built in 1831 it was intended as the summer residence of the High Lord Commissioner during the British rule.

Kanoni
Inside the Mon Repos Estate is a small Doric temple probably dedicated to Poseidon and dating from around 500 BC. Opposite the Mon Repos gate is the ruin of Paleopolis Basilica, the oldest church still in existence in Corfu. The road opposite to Basilica takes you to the hamlet of Analypsis. The Acropolis of Corcyra, with its temples and public buildings is thought to have been situated on the nearby hill of Ayia Marina.
More information: http://www.corfutoday.com/resorts/kanoni.html