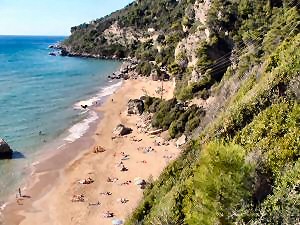 Myrtiotissa beach is known for many years as Corfu's nudist paradise (although not so secret anymore) and is described by some enthusiasts as one of the most beautiful beaches in Europe.
It is also known as the only beach in the island of Corfu where nudism is officially tolerated.

At this place, the visitor will experience the ultimate feeling of relaxed holidays.
An oasis of silence, tranquillity and total freedom, far away from mass tourism
and a few minutes walk from what Lawrence Durrell called perhaps the loveliest beach in the world.
The beach exerts its own unique charm, so if someone visits Myrtiotissa the first time he will certainly come back.


We have created this site with the hope to be a useful guide and to help someone find all the information
needed regarding vacations in Myrtiotissa and the surrounding area of the villages Pelekas and Vatos.