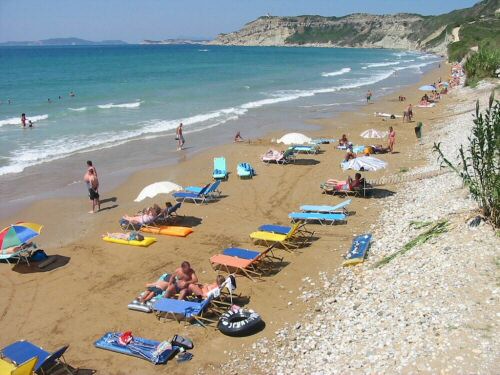 The long beach of Arillas, sandy and pebbly in parts, is situated in front of the small coastal tourist resort, at a distance of 38 kilometers northwestern to the town of Corfu. It is protected from both sides by two small peninsulas and it is extended at a length of more than 2 kilometers.
Arillas, is situated at the North-Western part of Corfu island.
Quiet and safe resort for all types of tourists, is ideal for families, as children can play with the golden sand or swim in it s crystal shallow waters, for couples and people who are looking forward to escaping from anxiety and noise of the big city, and also to enjoy discovering the Corfiot nature walking through paths leading to the small villages around.
The area of Arillas without being commercialized keeps it s genuine character still, with a variety of small local family-run tavernas and shops, so that it can satisfy even the most demanding clients.
Arillas beach being in between to St George and St.Stefanos bays, has an advantageous position as it s visitors can easily get access to those other sandy beaches as well.
The friendly atmosphere, the beautiful wellknown sunsets, the magnificent scenery, and the Corfiot colours which can be everywhere, leave to the visitors unforgetable "pictures" and the wish to come back...
For more information   visit  www.arillas.com